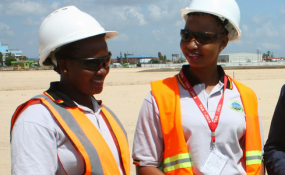 Photo: The Citizen
By Rose Athumani
MSIMBATI village of Mtwara rural district is a hive of activities as new house structures are mushrooming at the central business area (CBA) at a high speed.
One can easily mistake the gas rich village for a township given the high rate of development taking place. A modern standard village market has been constructed at the CBA where those who cannot afford to construct their own stalls may sell their merchandise that includes tomatoes, rice, fish and other commodities.
Those with money have been allocated land at the CBA by the local village government to construct modern stalls which are positively changing the skyline of the village when compared to other surrounding villages such as Madimba and Mngoji.
Most houses spot corrugated iron sheet roofs, one of the many indicators of economic growth as well as a requirement for electricity connection, instead of the grass thatched mud huts found in the village some years ago.
Construction work of the Msimbati-Mtwara road is going on and has opened up trade and increased business, with traders from other villages selling their merchandise in Msimbati village due to timely public transport system.
One such trader Juma Abdallah from Madimba village who used only two hours to clear his merchandize of 20 winnowing baskets, known in Kiswahili as 'ungo', made from woven stripes of coconut palms.
These sell for 5,000/-per piece and the hawker moves from house to house. Business boom apart, Msimbati village is a matrilineal society and gender disparity is evident as women have been left out of the economic development cycle.
Those who are brave enough to try their hand in small business are facing multiple challenges ; where to get capital and balancing other duties such as house chores and family care.
Though the gas economy has not yet benefited the women directly through employment and business opportunities, it has done so indirectly through provision of improved health services, for them and the whole Msimbati community.
A maternity ward has been built and a dispensary complete with medical supplies and the infrastructure including beds. Maurel and Prom Exploration and Production Company Ltd has built two classrooms, 4 teacher's houses and an office at Msimbati Primary school according to Msimbati village chairman Mr Ahamad Ali Shada who could not readily provide the amount of money spent on the projects.
Although there were efforts to provide clean and safe water they proved futile because only salt water was found during the drilling process. Provision of clean and safe water would have reduced the time women spend on walking long distances searching for the commodity especially during the dry season.
"We requested the Tanzania Petroleum Development Corporation (TPDC) to bring water from Ruvuma River to Madimba, when laying pipes, to also connect us to clean and safe water... we are still waiting hopefully they will do so one of these days," Mr Shada explained.
Currently the village relies on shallow wells whose water is neither safe nor clean and during the dry season women camp near the wells for many hours waiting to draw water.
Some of the women at Msimbati village are engaged in small business ventures such as selling fried fish, rice cakes, boiled ming'oko -tuber like roots and making mats to make ends meet.
Ms Rukia Yusuf operates a small business, selling cakes made from rice flour. She makes between 15,000/-and 30,000/-on a good day and less than 10,000/-on a bad day from her merchandise, which sells between 200/-and 300/-; depending on the size.
Ms Yusuf wrapped in a Kitenge and (covered in a) Khanga and barefoot was vigorously pounding rice in a mortar and pestle for preparing the rice flour for the cakes that would be sold in the evening since it was the holy month of Ramadan otherwise she sells the cakes in from morning during other months.
"I do this every day pounding and sieving the rice flour for the cakes, it's hard work but pays. This is beside the normal chores of taking care of my family. I am happy to say that the money has greatly improved my family economic status, I can afford to meet the needs of my family," Ms Yusuf explains.
Ms Yusuf is also determined to use her earnings to build a stall at the Msimbati CBA believing this will expand her business and increase her earnings hence improve her economic status Ms Halima Hassan a food vendor who plans to resume operating her business after the holy month of Ramadhan is over says women do not have economic opportunities as those of their male counterparts including access to loans and employment in the gas companies.
"We can help steer the economic wheel of our society if we are empowered financially and through periodic education because some of us did not even finish school. We need entrepreneurial education on managing our small business and money so we can grow," she explains.
She adds that source of capital for most women in Msimbati and other villages is usually money loaned from family and friends, stressing that they have not received any loans from local government development funds.
"We heard a lot of promises but so far we have not seen any assistance, especially for women. But we are thankful that we have electricity, although not very reliable due to frequent blackouts, it has seen a lot of us womenfolk staying up late in the night getting ready essentials for our businesses," she explains.
The frequent blackouts in Msimbati and other areas in Mtwara were attributed to failure of two, out of nine power generating machines, that are currently down, according to the Tanzania Electricity Supply Company (Tanesco) Regional Customer Relations Officer in Mtwara, Mr Proches Joseph.
Mr Joseph explained that the installed capacity of each of the nine power generating machines produces 2MW bringing to 18 MW from all nine power generating machines, adding that Tanesco Mtwara office is expecting replacements of the two generators.