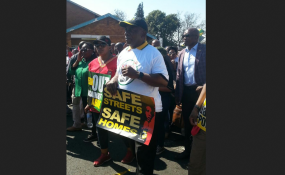 Photo: CR17SIYAVUMA/Twitter
Presidential hopeful Cyril Ramaphosa who is about to address a packed hall at Braamfischerville, Soweto has been welcomed in song.
Ramaphosa will deliver the OR Tambo Memorial Lecture on Saturday afternoon.
At least 200 ANC supporters, including women dressed in ANC Women's League colours, are in attendance.
Some ANC supporters are dressed in T-shirts with "CR17 Siyavuma" (we agree) written on the front.
Women supporters sang and danced to songs, praising Ramaphosa before his arrival.
Ramaphosa marched in the streets of Soweto with Cosatu and Sadtu leaders against gender based violence.
The ANC deputy president was seen dressed in a Sadtu T-shirt while marching to the Moroka police station in Kliptown to deliver a memorandum.
He was joined by at least a 100 men and women who held placards that read: "Safe streets, safe homes".
He condemned violence against women saying that there was "no place for men that abuse women and children in society".
The ANC marked 2017 as the year of its longest serving president OR Tambo. This year also marks 100 years since Tambo's birth.
Ramaphosa has been in full campaign mode, travelling across the country to gain support.
The Northern Cape as well as some parts of the Gauteng region have pronounced Ramaphosa as their preferred candidate.
Meanwhile, President Jacob Zuma as well as Nkosazana Dlamini-Zuma will also making an address on Saturday.
Zuma was scheduled to address the Free State cadres assembly while Dlamini-Zuma, who has been pinned against Ramaphosa in the build-up to the party's election, will be addressing supporters in Alexandra.
Source: News24