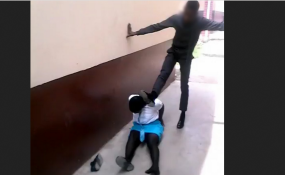 Photo: Twitter
The father of the schoolgirl seen in a viral video being assaulted by a male learner at an Inanda school, north of Durban, cannot recall the police officials who advised him not to open a case against the perpetrator, KwaZulu-Natal police said.
KZN acting provincial police commissioner Major-General Bheki Langa said they have obtained a statement from the victim's father.
"He alleges that he spoke to police officials in November 2016 with regard to the assault and was advised against opening a case. Although he cannot recall who he spoke to, every attempt will be made to identify those who may have been responsible so that they could be brought to book," Langa said.
Police view the problem of gender violence in a very serious light and will not accept officials who act outside the prescripts of the law "as all as those who do not comply with our internal directives in this regard", he said.
"We are working very closely with the father of the victim to identify the officials that he spoke to last year. We view the actions of these individuals as very serious misconduct and they will be dealt with very firmly within the prescripts of the law, as well as our own disciplinary regulations," he said.
Personal intervention
Police also confirmed that the 19-year-old learner, who is seen on the video assaulting the victim in what appears to be a school corridor, has been taken into custody.
"It is very disturbing to see a young women being assaulted in such a vicious manner by a fellow learner in a space where she should have been safe. It is even more disturbing to note that the perpetrator is a young man in the prime of his life who should not be exhibiting such violent behaviour especially toward young females," Langa said.
The station commander of Inanda police station has been instructed to personally intervene and a case of assault with intent to cause grievous bodily harm was registered, Langa said.
The victim's father said the assault occurred in November 2016 at Siyathuthuka Secondary School in Inanda, when his daughter was about to write her final exams.
He told News24 on Friday that on the same day, he went to a local police station in the area, but police were not willing to open a case for his daughter.
"I took my daughter and the blood stained school uniform she wore during the assault as she bled from her nose. Police there first told me there were no police vans available to go take us to the perpetrator's home. They then told me that it would be a waste of time to open a case against the boy because he would be set free in court," he said.
Source: News24