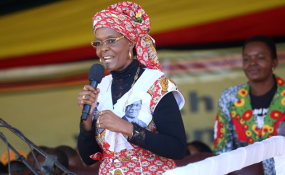 Photo: The Herald
President Robert Mugabe says his wife Grace was in South African to seek treatment over an ankle injury she sustained during a "freak" road accident involving the Presidential limousine last month.
However, there could be more to the First Lady's South African trips since the first couple relocated their delinquent two sons to the southern neighbour recently.
President Mugabe said on two separate occasions Friday and Saturday that Grace was in South Africa to seek treatment for the injury.
"I am alone not that I am not married," President Mugabe said while officiating at the Zimbabwe National Defence University on Friday.
"She is still in pain from the time she got injured by a car that is why she is not here."
President Mugabe repeated the claims during his Matebeleland South youth interface rally in Gwanda on Saturday.
The garrulous First Lady was not there to whip up hate against party rival, Vice President Emmerson Mnangagwa as has been the case with the first couple's recent rallies.
Grace's leg was reportedly injured as she was about to enter President Mugabe's chauffer driven limousine when the first family was arriving from Singapore at the Harare International airport.
She was taken to a local hospital with subsequent claims she was "on the mend".
Grace has been seen in later public functions involving her husband.
However, Grace's absence in the two weekend functions by her husband could be seen in the first family's attempts to reign in its binging sons who now live in South Africa, having been withdrawn under a cloud from their Dubai residence.
Addressing his Masvingo youth interface rally early last month, President Mugabe let the cat out of the bag when he told party supporters and television viewers his 52-year-old wife had flown to South Africa to attend to a family "tsaona" (crisis).
It later turned out she had got to find alternative accommodation for Robert (Junior) and Chatunga who had reportedly been thrown out of their expensive accommodation over wild behaviour.
Since the revelations, the first couple have been a target of renewed ridicule for failing to reign in their young offspring while using the might of the State to force locals to toe the line.
Following the ridicule, a much wiser President Mugabe may have changed the script through claims his wife was in the rich neighbour for medical reasons.