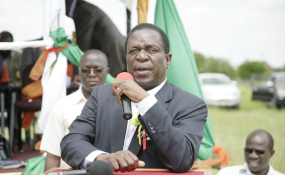 Photo: The Herald
Vice president Emmerson Mnangagwa was reportedly rushed to hospital by helicopter Saturday after being taken ill while attending President Robert Mugabe's rally in Gwanda.
Sources close to the vice president however, downplayed social media claims that Mnangagwa had been poisoned, saying he likely suffered an adverse reaction to milkshakes served at the event.
The beverage is reportedly sourced from Mugabe's Gushungo dairy company.
The vice president walked off the stage some 45 minutes into Mugabe's address and got into an ambulance amid claims that he was vomiting.
The ambulance took him to Gwanda aerodrome where he was airlifted to hospital.
Reports last week claimed Mnangagwa offered to resign after being viciously attacked by rivals in the Zanu PF fight over Mugabe's succession.
Mnangagwa is accused by the rival G40 Zanu PF faction of trying to topple the 93-year-old Mugabe.
The G40 faction, which now backs defence minister Sydney Sekeramayi, has the support of co-vice president Phelekezela Mphoko and First Lady Grace Mugabe.
Claimed G40 brains and cabinet minister Professor Jonathan Moyo recently presented a documentary before the Zanu PF politburo detailing how Mnangagwa has allegedly captured State institutions as part of his bid to remove Mugabe from power.