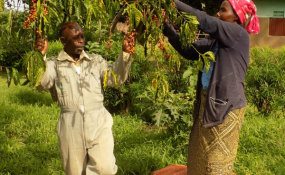 Photo: Joseph Kato/Daily Monitor
By Muchemi Wachira
The elections are over. And the focus is now turning to incoming leaders and whether they will embrace reforms proposed by a team of experts to turn around the fortunes of the coffee sub-sector.
The proposals, which were on the way to being implemented, were stopped after the High Court declared them unlawful following opposition by the Council of Governors and a group of farmers.
Meru Governor Peter Munya, who was chairman of the Council of Governors at the time the case was filed, is among the leaders sent home in the polls. He lost to Mr Kiraitu Murungi of Jubilee.
The CoG had teamed up with New Farmers' Association, contending that members of the task force did not involve all stakeholders when arriving at the resolutions.
"I am prepared to work with new governors in the 31 coffee growing areas, hoping that they will support the legal reforms we proposed," Prof Joseph Kieyah, who chaired the task force, told Sunday Nation on Friday.
During the telephone interview, Prof Kieyah admitted that he found it difficult to work with some governors, adding that reforms cannot be successfully implemented without their support.
County governments play a major role in the agriculture sector, which is devolved, and farmers have been banking their hopes on the units to realise better returns for their harvests.
The proposed legal reforms were aimed at improving production for small-holder farmers and enabling them to access credit facilities.
They were also meant to make millers and marketing agents more accountable to farmers.
Restructuring co-operative societies, which growers use to market their coffee, is also part of the reforms.
Another proposal by the task force was to set aside Sh200 million to brand and promote Kenyan coffee locally and internationally.
Some governors were keen on supporting small-holder farmers in improving their production and remuneration.
In Nyeri, then Governor Nderitu Gachagua (deceased) had come up with an ambitious marketing programme for small-scale farmers where they were supposed to market their crop directly to overseas consumers.
But the initiative came a cropper, making producers incur heavy losses. Mr Gachagua pointed fingers at coffee cartels.
As a management official of Rumukia Co-operative Society in Mukurwe-ini sub-county, Mr Wanyaga Mutahi, explains, farmers have never recovered the losses that saw most societies incur huge debts.
"Some co-operative societies are heavily indebted. That is why you see farmers selling their coffee to brokers. If this problem is not addressed, we may not have coffee in some of these areas in the next two years," Mr Mutahi said.
Experts have been urging farmers to improve the volume and quality of their beans so as to fetch good prices in the world market.
Recently, Murang'a Governor Mwangi wa Iria initiated a pilot project intended to improve production of the cash crop.
In the project, the county government is providing selected growers various inputs, besides training them on good agriculture practices. Some 80,000 farmers have volunteered to take part before the programme is rolled out in the county.
On Friday, Prof Kieyah said he was sure most of the new governors had shown willingness to support the proposed coffee regulations.
"We can use coffee as an anchor for rural development," he said.