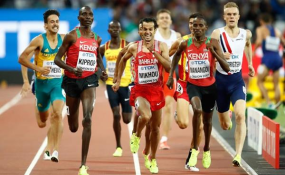 Photo: IAAF
opinion
By Elias Makori
After Sunday night's final action, teams are now headed back home today after a successful edition of the IAAF World Championships.
USA might have dethroned Team Kenya as overall champions, but the Kenyan squad here earned huge respect by giving the Americans a worthy challenge, and indeed staying ahead of other nations that enjoy massive athletics budgets. Team Kenya made us all proud to be Kenyan, like an avid reader, James Kimani, summed it up in an email message to me Sunday:
"I take this opportunity to salute Team Kenya for a job well done. They have done us proud. If you can give them a big hug on my behalf, and millions of other Kenyans," Kimani wrote.
"A big salute to the entire technical bench. The entire team of Kenyans out there do make us proud and very happy unlike our politicians who are making our hearts grieve. Bon voyage," he concluded.
Indeed, Kimani's feelings are shared by many Kenyans who followed the sizzling action over the last 10 days that saw the retirement from track by legends Usain Bolt, Mo Farah and our very own Ezekiel Kemboi.
We pay tribute to Kemboi for his longevity and achievements on the track that saw him compete at unprecedented eight World Championships. Through the years, superstars, including Amos Biwott, Kipchoge Keino, Julius Korir, Julius Kariuki, Mathew Birir, Reuben Kosgei and Moses Kiptanui, have made the steeplechase our own race, and it's reassuring to see Olympic and world champion Conseslus Kipruto jealously guard this tradition.
My heart also goes out to David Rudisha, Julius Yego and Nicholas Bett, champions in Beijing two years ago who were forced to relinquish their 800 metres, javelin and hurdles, respectively, titles through injury.
The three have been shining lights in their respective disciplines and continue to inspire many, so we can only hope that they bounce back in time for next year's Commonwealth Games in Gold Coast, Australia, and also challenge to get their titles back when the next World Championships are held in Doha in 2019.
It would be unfair not to congratulate Athletics Kenya (AK) for steering the ship steadily, under the captaincy of President Jack Tuwei, chief executive Susan Kamau and the technical team headed by Paul Mutwii.
Special tribute also to AK workhorse Barnabas Korir who can be compared to a creative midfielder in football - supplying the killer passes. The coaching staff, under head coach Julius Kirwa, have again delivered and their efforts should not go unrewarded.
It was a good gesture by the IAAF to introduce medals for coaches here alongside those awarded to athletes. Finally, the medical staff, led by the experienced Victor Bargoria and Peter Nduhiu, have been fantastic, although they are yet to come to my rescue after I picked up a career-threatening injury in Thursday's media race! Well done Team Kenya, you've done us proud!