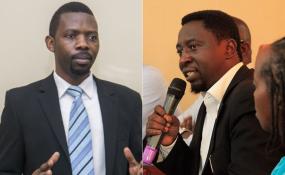 Photo: allafrica.com
By Ivan R. Mugisha and Rodrigues Rwirahira
Independent presidential candidate Phillipe Mpayimana surprised many when he emerged second in Rwanda's presidential elections on August 4.
He garnered almost double the votes that opposition figurehead, Frank Habineza of The Democratic Green Party managed, although both of them had to share less than two per cent of the vote.
President Paul Kagame garnered 98.8 per cent of the vote; Mr Mpayimana managed 0.73 per cent while Mr Habineza had 0.48 per cent.
Experts argue that Mr Mpayimana's surprise triumph over Mr Habineza suggests that some Rwandans possibly still vote along ethnic lines.
And now the 47-year-old former journalist says he is going to concentrate on business and teaching.
"Beating Habineza does not mean much. We both campaigned and lost the election. I have no intentions of starting a political party and I will now concentrate on media consultancy and advertising," he said.
"I wanted to show people including those in the Diaspora that they can come to Rwanda and participate in politics."
Exiled in France
Mr Mpayimana said he does not intend to return to France, where he lived for 23 years, and worked two jobs as a factory worker and as a French language teacher.
Throughout the campaign period, Mr Mpayimana kept shifting positions on key issues such as taxation, agriculture and investments, and raised eyebrows when he promised that he would never support foreign investments if he became president.
He also said on live TV that he would look into the use of "witchcraft" to overcome thefts on plantations.
His rallies were mostly attended by a handful of people. Sometimes only primary school children would be seen at his rallies.
Earlier on the campaign trail, Mr Mpayimana shared concerns with Mr Habineza, that his supporters were harassed by local authorities, but later admitted that the situation had improved.
"When we started the campaign we faced some challenges like harassment of supporters; but with time the process became fairer and we campaigned peacefully across the country," he said.
Mr Mpayimana was born in the southern district of Nyaruguru in 1970 and schooled in Rwanda. He studied literature at the National University of Rwanda, graduating in 1993.