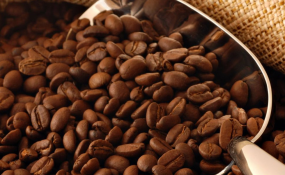 Photo: Daily News
By Zephania Ubwani
Arusha — Coffee production in Tanzania could more than double in four years' time if an action programme to increase the competitiveness of small holder farmers is successfully implemented.
The ten-year programme launched in 2011/2012 aims to increase coffee production and quality from 50,000 tonnes a year by then to 150,000 tonnes in 2020/2021.
"It is the only way to achieve green revolution in coffee industry," said a report presented to stakeholders by the Tanzania Coffee Research Institute (TaCRI) during the just ended Nane Nane agricultural fair.
Besides increasing production of coffee beans, the programme aims to raise the income and improve the livelihoods of the growers scattered in different zones of the country.
"The challenge ahead of us is to meet the demand of hybrid seedlings needed for distribution and replanting of about 365,00 hectares," the report seen by The Citizen said.
In order to achieve this, TaCRI, a institution based at Lyamungo in Kilimanjaro and dedicated to coffee research, has released 15 arabica coffee high yielding and disease resistant varieties under its breeding programme.
Also released are four robusta coffee varieties for the growers of the crop in Kagera Region. The varieties are resistant to coffee wilt disease (CWD) and has excellent beverage quality.
Diseases notorious for attacking arabica coffee are coffee berry disease (CBD) and coffee leaf disease (CLD). Within East Africa, about 36 coffee pests have been reported.
Successful implementation of the programme will contribute to the financial sustainability of TaCRI which gets its annual income from cooperative unions and societies dealing with coffee processors and the private sector.
The institute has also been getting its funds from the government and donors, specifically the European Union (EU), the Endowment Fund for TaCRI and through collaborative activities.
The institution was set up in 2000 to rejuvenate the coffee industry through research and practical technological innovations.