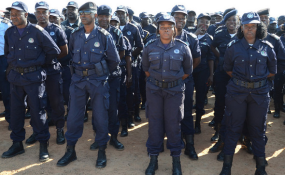 Photo: http://www.angop.ao
Menongue — The deputy commander of the National Police reaffirmed confidence in the capacity of the staff to keep order during the process leading to voting on 23 August this year.
Chief commissioner Paulo de Almeida was speaking Friday in Menongue, southeastern Cuando Cubango province, during an address to Riot Police staff.
"We are prepared, sure, confident in our capacity to keep public order and tranquillity," said the police officer.
He added that Angola was a "great example" of democracy in Africa and world concerning the organisation of peaceful, orderly and calm elections.
"We guarantee to the Angolan people, to Africa and world that Angola is a great example of democracy, a great example of realisations in peace, order and tranquillity," he stated.
The police officer who deplored the fact that elections in Africa often relapse into unrest, stated that the organs of the Home Ministry will not allow this to happen in Angola.
General election will be held on 23 August this year, with the participation of six contesting parties. They are the ruling MPLA and opposition UNITA, FNLA, PRS, APN and CASA-CE coalition.