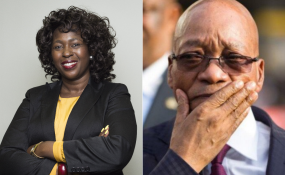 Photo: allafrica.com
analysis
ANC MP Makhosi Khoza has been one of her party's most outspoken members against President Jacob Zuma. She was clear she planned to vote against the president in the recent no confidence vote. As her opponents in the ANC prepare to pounce, GREG NICOLSON spoke to Khoza on Sunday.
Makhosi Khoza has been an ANC activist since she was 12 years old, but she's deeply distressed by her party's continued support of President Jacob Zuma and the hounding of his opponents.
"It's common cause how I voted," she said on Tuesday's no confidence motion in Zuma. "Obviously I can't betray my conscience."
Khoza, along with more than a handful of ANC Members of Parliament, made it clear that she would vote according to her conscience during the no confidence motion - meaning she would vote against Zuma. The president's supporters have called for her and others who refused to follow the party line to be punished after Zuma survived by a slim margin, with up to 39 ANC MPs voting against him or abstaining.
"It's people that have no foresight. It's people that are denialists. It is people that don't love the ANC. It's people that want to protect what...