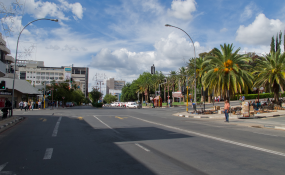 Photo: Stefan Magdalinski/Wikipedia
By Ngaevarue Katjangua
MOODY's Investors Service yesterday downgraded Namibia's long-term senior unsecured bond and issuer rating to junk status, while maintaining its negative outlook for the country's economy.
Moody's assessment comes despite government's recent assurances that the country's economy had stabilised and was on the road to recovery.
Shortly after Moody's statement was released, finance minister Calle Schlettwein issued an official response yesterday, stating: "The economic situation in Namibia does not warrant such downgrading."
In his lengthy response, Schlettwein took issue with various aspects of the Moody's assessment which preceded the downgrade, stating: "A thorough assessment taking all factors into consideration would have been the proper way in reviewing the country's sovereign credit rating."
Schlettwein's statement effectively accuses the ratings agency of conducting a poor assessment and of ultimately having reached "speculative conclusions".