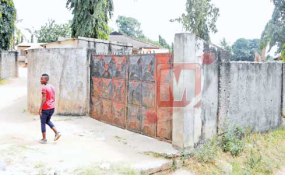 Photo: Said Khamis/The Citizen
By Gadiosa Lamtey
Dar es Salaam — A house believed to belong to former President Benjamin Mkapa's wife, Anna, will be demolished to allow expansion of the Morogoro Road.
The former First Lady's house will be among thousands of the houses that are set to be demolished, the exercise that will affect over 10,000 people.
Apart from the house, a portion of a five-hectare land, which is said to be owned by Mr Mkapa, will be repossessed.
This was revealed by the chairman of Mji Mpya Street, Mr Daniel Majige, when he spoke to The Citizen in an exclusive interview.
According to Mr Majige there have been complaints from some of wananchi that the piece of land has stayed idle for a long time.
Mr Majige said on behalf of the Mji Mpya residents that he reported the complaints to Ubungo district council.
He said "I have already reported this (complaint) to the land department at the Ubungo municipal council, but nothing has so far been done."
The Citizen visited the house believed to belong to the former First Lady and a woman who was found there confirmed that it was Ms Mkapa's house.
"I am a relative of Ms Mkapa, but I have nothing more to speak about this. If you want more details, you should contact her," said the woman.
Another resident, whose house has been marked for demolition, Mr James Shirenda (70) complained about the government's decision to increase the road reserve area from 60 metres to 120 metres.
"We should be compensated because, when we bought the land, the road reserve was 60 metres, but the government doubled it to 120 metres," said Mr Shirenda.
Meanwhile, the coordinator of demolition victims, Ephraim Kinyafu said the agency failed to conduct demolition exercise yesterday due to inclement weather.
About 200 houses have been disconnected from power by the Tanzania Electric Supplying Company Limited (Tanesco) to pave the way for demolition.