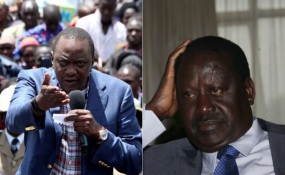 Photo: allafrica.com
By Maureen Kakah
Anyone seeking to challenge the General Election presidential results has between August 14 and 22 to do so, which is exactly seven days before re-elected President Uhuru Kenyatta is sworn in.
A notice advertised by the Judiciary in local dailies last Friday as well as a gazette notice published late last month indicated the said timelines.
"The Supreme Court presidential election rules 2017 have been promulgated to ensure smooth and expeditious disposal of any disputes relating to the election of the President," the Supreme Court registrar said.
PERIOD
While the person who goes to court in such a case must do so within seven days after the Independent Electoral and Boundaries Commission has declared its results, those sued must respond within four days after being given copies of the case documents.
The court would then have a first sitting eight days after such a case has been filed.
A presidential petition has to be determined in 14 days.
ELECTION LAWS
The election petition rules indicate that validity of a presidential election results can be one of the grounds to file such a case at a cost of Sh1 million.
All judges and selected magistrates who will be handling election petitions have been trained on election laws as part of measures put up by the Judiciary in preparation for handling disputes related to the polls.
PETITIONS
While the announcement spelt out rules for filing a presidential election petition, the Judiciary is already anticipating a large number of cases arising from the August 8 polls as compared to the 188 ones filed after the March 2013 General Election.
According to the Judiciary's Committee on Elections, which is chaired by Justice Msagha Mbogholi, apart from the presidential election petition, other polls related cases will be concluded within six months after being filed any time from 28 days after declaration of the results.