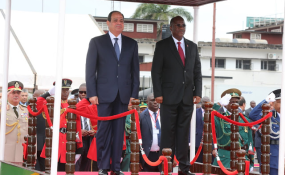 Photo: State House
By Rodgers Luhwago
PRESIDENT John Magufuli yesterday led top government leaders to welcome Egyptian President Abdel Fattah Al- Sisi who arrived at the Julius Nyerere International Airport (JNIA) for a two-day state visit in the country.
Miraculously, the sky opened up, with heavy downpours pounding the city to welcome the Arab Republic leader, a sign of blessings, in the eyes of Tanzanians. The downpours however did not deter Dar es Salaam residents from turning up at JNIA's Terminal one to welcome the visiting leader.
At 11:56 am state-of-the art presidential jet carrying the Egyptian leader touched down to the red-carpet reception.
"This leader has come with blessings to us. The only thing we pray for now is for the rains not to disrupt our programme," a middle-aged woman said, referring to the rain that was approaching as President Al-Sisi received the 21-gun salute.
After inspecting the guard of honour mounted by the Tanzania People Defence Forces (TPDF), President Al-Sisi and his host had a moment of conversation as rains briefly disrupted the programme.
But, rain did not dissuade security personnel from intensifying security. President Al- Sisi's government is battling IS fighters who have occasionally committed atrocities in Egypt.
Vice President Samia Suluhu Hassan, Zanzibar President Dr Ali Mohammed Shein and Prime Minister Kassim Majaliwa accompanied President Magufuli to receive the outspoken leader.
Leaders of defence and security organs were present at the red-carpet reception, with members of the diplomatic corps from at least fifteen Arab States accredited to Tanzania showing massive diplomatic support to the Egyptian Head of State's arrival.
Dr Kitojo Wetengere, an expert in diplomacy at the Kurasini Centre for Foreign Relations, speaking to the 'Daily News,' said diplomatically, Egypt was a strategic nation to Tanzania.
He said though Tanzania enjoys good diplomatic relations with many Arab States in the world, Egypt was strategically important in presenting Tanzania's image in the Arabic world."For any nation to succeed in its affairs in the world, diplomacy is an important tool.
As Tanzania expands her diplomatic tentacles in the Arab states, Egypt is a critical partner," he said. According to Dr Wetengere, building good relations with Egypt is inevitable as the two nations are among African countries that share the water benefits from Lake Victoria.
He also said that from Egyptian experience in cultural and historical tourism, Tanzania can borrow a leaf from the Arab State on how to market and expand her tourist attractions.
"While Egypt has long experience and expertise in marketing her historical sites like the Pyramids and other cultural tourist attractions, Tanzania has Amboni caves, Bagamoyo and Zanzibar slave markets and Olduvai Gorge that we have not marketed well," he said.
He added: "If we learn from our colleagues on how to market other tourist attractions, we will increase the number of tourists instead of focusing on the northern circuit alone." Born in November 1954, Al-Sisi is the sixth President of Egypt.
In 1992, he trained at the Joint Services Command and Staff College in the United Kingdom prior to joining the United States Army War College in Carlisle, Pennsylvania in 2006. Al Sisi served as a mechanised infantry commander and director of military intelligence.
After the Egyptian revolution of 2011 and election of Mohamed Morsi to the Egyptian presidency, Al-Sisi was appointed Minister of Defence on August 12, 2012, replacing the Mubarak-era Hussein Tantawi.
Al-Sisi retired from the military career, announcing his wish for presidency in the 2014 general elections, in which he emerged with landslide victory of over 97 per cent.