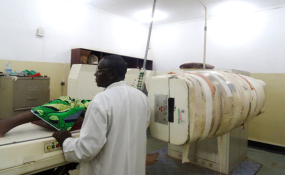 Photo: The Monitor
By Yudaya Nangonzi & Ali Twaha
Uganda Revenue Authority has denied claims that it is delaying clearance of the radiotherapy machine which was expected to be unveiled at the Uganda Cancer Institute this morning.
According to Dickson Kateshumbwa, the commissioner for customs at URA, the authority already cleared the machine but it is up to the ministry to clear other fees.
"The reports that it (cancer machine) is being held at URA are false. When we do our part and release it, it's up to the responsible ministry or hospital to take it away. We understand that there are safety issues they have to fulfil [but] we don't have any claims on this machine," Kateshumbwa said at the inaugural African Tax Administration forum at Serena hotel, Kigo.
He says the machine was immediately released after lodgement under method one and it is exempted from taxation.
"The entry number is C61459 and it was released and exited from customs. I understand that they have to pay transportation and clearance at the warehouse but that is outside URA," he said.
Kateshumbwa's comments come after a flopped ceremony where the ministry of Health had invited journalists to witness the handover of the machine to Uganda Cancer Institute early this morning.
At around 1:24pm yesterday, ministry of health spokesperson Vivian Nakaliika Serwanjja sent an email informing inviting the media.
"Dear all, the honourable minister of health will be receiving the cobalt60 radiotherapy machine tomorrow Wednesday at the radiotherapy department, Mulago at 8:30am. This mail therefore serves to invite you/your media house to cover the event," reads Nakaliika message.
While some journalists arrived on time, there was no sign of the machine or the minister. They were informed that the function had been postponed. Several doctors at the institute were seen forming small groups, discussing in hushed tones. Many patients who had heard of the machine's arrival had already lined up for radiotherapy services.
Nakaliika has since written back to the media saying "this event has been rescheduled. We regret any inconveniences caused. We shall keep you updated on the new schedule. Thank you."
Join us tomorrow Wednesday 16th August as we receive the Radiotherapy machine at the Uganda Cancer Institute at 9:00 Am.#UCI50 #StayingAlive
-- UgandaCancerInstitut (@UgandaCancerIns) August 15, 2017
Dr Jackson Oryem, the director of the institute, reportedly told journalists that the machine was still stuck at URA pending clearance of some issues. He said a new date will be communicated.
The radiotherapy machine at Mulago broke down in April last year and procurement of a new one has had to endure endless setbacks, one of them being the delay in construction of a new banker (a room where the machine is housed).
Last week the cancer institute announced on their twitter account that the machine had arrived in the country.
We would like to confirm to the general public that the new radiotherapy machine has finally arrived in the country. #UCI50 #StayingAlive
-- UgandaCancerInstitut (@UgandaCancerIns) August 13, 2017
More to follow...