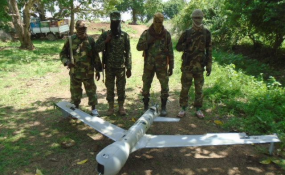 Photo: Radio Dalsan
The Somali government has called on more Al-Shabaab fighters to renounce extremism and pursue the peace process.
The ministry of information, culture and tourism said the militants should take advantage of President Mohamed Abdullahi Farmajo who had offered training, employment and education to fighters who gave themselves up.
"The Somalia government's policy is to welcome those willing to renounce terrorists and join the peace process and nation building," the ministry said hours after the government held talks with former Al-Shabaab deputy leader Mukhtar Robow in Mogadishu, the capital.
Robow who is also known as Abu Mansour deserted the militant group in 2013 and retreated to his homeland over disagreement on using foreign fighters in the group.
His surrender comes after weeks of deadly fighting between Al-Shabaab militants and his militia backed by Somalia security forces.
"In light of President Farmajo's pardon, the government declares to receive anyone that gives up his/her twisted ideology of Al-Shabaab," the ministry said.
"The government hugely thanks anyone who played a role in facilitating the current discussion with Robow, in particular all segments of the society and our international friends and partners," it said.
Analysts say his defection will deny Al-Shabaab vital manpower and intelligence. It is a big blow that, Al-Shabaab will certainly lose all South of Somalia due to Robow's influence there besides the tight noose by Kenya Defense Forces.
Robow's defection will likely enable pro-government forces to operate in the regions of Bay and Bakool, thus reducing the insurgents' operational territory.