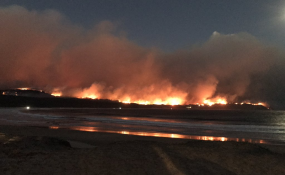 Photo: Energy Afric Recruit/Twitter
analysis
The Southern Cape wildfires have died down, but for someone, the burn is just beginning. Following the release of a forensic report into what may have caused the inferno, officials say the search is on for the culprits, who will face the full might of the law. Meanwhile, Knysna needs to find R4-billion to R5-billion to fix the damage. By MARELISE VAN DER MERWE.
The investigation into the cause of Knysna's devastating fires is in all likelihood far from over, following the release of a forensic report that suggested human involvement.
Chief of Fire and Rescue in Knysna, Clinton Manuel, told Daily Maverick the investigation had been handed over to the South African Police Service (SAPS), which would be investigating the matter further, and that it was "highly unlikely" it would not be taken seriously, given that there were multiple deaths and extensive damage to property.
Chairperson of the Standing Committee on Local Government and DA Western Cape spokesperson on Local Government Masizole Mnqasela added that the committee intended to exact the "full might of the law" against any perpetrators identified.
Mnqasela on Tuesday issued a statement saying the committee intended to ask the investigative team to present their findings...