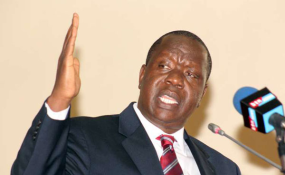 Photo: Nation
By Elvis Ondieki
The NGO Coordination Board which has been shutting down non-profits is operating illegally, the national rights defender has said.
The Kenya National Commission on Human Rights (KNCHR) on Wednesday said the NGO Act, which created the board headed by Mr Fazul Mahamed, was repealed.
The NGO law, KNCHR Chairperson Kagwiria Mbogori said, was replaced by Public Benefit Organisations (PBO) Act 2013 that is yet to take effect.
Ms Mbogori asked acting Interior Cabinet Secretary Fred Matiang'i to operationalise the PBO Act because his ministry is already in contempt of a court order issued on May 12.
She termed the NGO board's attacks on Kenya Human Rights Commission and Africa Center for Open Governance as "a breach of the right to fair administration".
More follows.