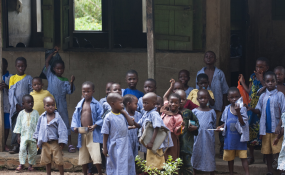 Photo: UNICEF
By Rakiya A. Muhammad
Sokoto — The United Nations Children's Fund has said Nigeria may not attain the Education For All target by 2020. UNICEF said it was rather worrisome that about 10.5 million children or 20 per cent of global total did not go to school in Nigeria.
This was stated at a presentation at the 2017 National Enrolment Drive Planning Meeting with journalists orgainsed by the Federal Minstry of Education, in collaboration with UNICEF. An Education Specialist with UNICEF, Azuka Menkiti, said the fund was also bothered because Nigeria, Afghanistan and Pakistan were unlikely to meet the target of Education For All by 2020.
Menkiti said more girls were out of school than boys; particularly in the northern states.
"It is a very big issue," she added.
On factors responsible for the prevailing situation, she stated: "Assessment has shown that there are multiple reasons for children being out of school. These include: socio cultural norms and practices that deny children the right to education.
"There are also issues of teacher quantity and quality, infrastructure and governance that make schools unattractive for parents and children."
She described education as a legal and moral inherent entitlement of everybody, adding that education bridged the gap between population groups that were unfair and avoidable.
Also speaking, UNICEF External Media Relations Officer, Kaduna Office, Rabiu Musa, said the aim of the meeting was to build collective responsibilities for reaching out-of-school children in Nigeria.
He said there was the need to ensure increased publicity for the overall success of the enrolment drive, as well as birth registration for every child.