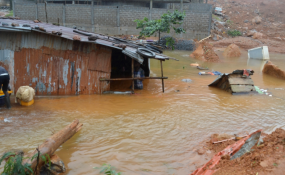 Photo: AMAMedia/Al Jazeera
On August 14, a mudslide killed more than 400 people in the mountain town of Regent on the outskirts of Sierra Leone's capital Freetown, sweeping away homes and leaving residents desperate for news of missing family members.
Here is what we know about it so far:
What happened and when?
A hillside collapsed on Monday at 6am local time (06:00 GMT), causing a mudslide on the outskirts of Sierra Leone's capital, Freetown.
The mudslide occurred after three days of torrential rain.
The mudslide and rain overwhelmed Freetown's drainage system, creating waterways that churned down steep streets across the capital.
Mudslides overran several houses killing residents, many of whom were trapped inside.
Military personnel have been deployed to help rescue those still trapped.
The morgue at Freetown's Connaught Hospital has been so overwhelmed by dead bodies that many of them have been left on the floor for lack of space.
According to Sierra Leone's president, an emergency response centre has been established in Regent.
Where did it happen?
The flooding took place in the mountain town of Regent, on the outskirts of Freetown, Sierra Leone's capital.
Located about 16km from the capital, the town of roughly one million people sits between the Atlantic Ocean and a range of hills.
Many people in Regent live in informal settlements on steep hillsides.
Could it have been prevented?
A mudslide triggered by torrential floods is typically considered a natural disaster, but the uprooting of trees for construction on the hillside is known to have made the soil unstable and more vulnerable to collapse.
In Sierra Leone, storms and torrential downpours are common in August and September. In 2015, floods killed 10 people and left thousands homeless.
This year, Sierra Leone has seen 104cm of rain since July 1, which is three times more than expected during the rainy season according to the US National Weather Service's Climate Prediction Center.
The Sierra Leone meteorological department did not issue a warning to hasten evacuations from danger zones before the torrential rainfall between August 11 to August 14, AFP reported.
Sierra Leone has banned construction on the hillsides, and officials have repeatedly warned against it.
How many casualties?
More than 400 people died in the flooding, 105 of which are children.
It's estimated that at least 600 people remain missing.
By Monday morning, the mortuary at Connaught Hospital was overwhelmed by the number of dead, and bodies had to be laid on the floor, coroner's technician Sinneh Kamara told The Associated Press.
Is it safe now? What is the latest on the ground?
Risk of more flooding and waterborne diseases such as cholera and typhoid.
Local state of emergency declared.
Satellite images show extensive damage, with hundreds of buildings destroyed.
About 3,000 people are now homeless.
The Red Cross is struggling to excavate families buried deep in the mud that engulfed their homes.
What happens next?
The International Organization for Migration released $150,000 in emergency funds.
The government of Sierra Leone promised relief to thousands of people left homeless, opening an emergency response centre in Regent and four registration centres.
The UN said it was evaluating humanitarian needs in the country and that "contingency plans are being put in place to mitigate any potential outbreak of waterborne diseases such as cholera, typhoid and diarrhoea", according to spokesman Stephane Dujarric.
Turkey, the UK and Israel say they are sending aid, including clean water, medicine and blankets.
President promised "dignified burials", 150 took place on Tuesday evening.
Week-long mourning declared in Sierra Leone.