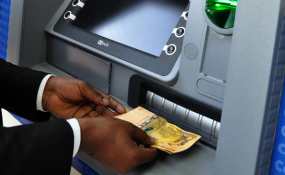 Photo: Daily Monitor
By Andrew Bagala
Kampala — More than 3,000 people, including senior police officers, have been ripped off of their savings they deposited in Global Finance, a pyramid scheme, after it closed and directors went in hiding.
Owners of Global Finance offices in Kampala City closed last week.
At least three people suspected to be managers of the scheme have been arrested in connection to the scam, but they all insist that they are also victims.
Mr Vicent Ssekate, the spokesman of Criminal Investigations, said the arrested people lured hundreds of people into joining a financial scheme which is not registered with Bank of Uganda.
"We are still looking for a top manager currently in hiding. He even hired an office in Kampala where he has been carrying out this illegal business," Mr Ssekate said.
Global Finance claims to be an investment firm that deal in private equity and venture capital. In the pyramid scheme, the unsuspected investors open account online and deposit money through electronic transfers. In return, the investors would get 15 per cent interest a month.
The unsuspected investors, who recruit new people, get 10 per cent of the new investment.
Hundreds of police officers, who lost money in the pyramid scheme, yesterday recorded statements at the Directorate of Criminal Investigations .
The officers attached to the Police Band said each invested a minimum of Shs4.5m.
"I know more than 100 officers who have lost their money. Some of them are regional police commanders," said one of the aggrieved officers.
The officers said they were promised 15 per cent interest on the money they invested every month.
Last month, Bank of Uganda warned the public against investing their money in Ponzi and pyramid schemes.
According to the Central Bank, a ponzi scheme is a fraudulent investing scam promising high rates of return with little risk to investors.
"Money invested by clients is not invested in any legitimate business but used to pay the people operating the scheme as well as those who invested earlier on. This is why Ponzi schemes can sometimes appear to be genuine and profitable investments; because the people who invested first seem to be benefitting," Bank of Uganda statement reads in part.
Both Ponzi and pyramid schemes always collapse after failing to deliver on the promises.
"Once they collapse, there is often no way for those who invested to recover their money," Bank of Uganda statement indicated.
Dubious schemes
1. It guarantees you high returns with little risk of losing your investment. A good general rule to follow is; if it sounds too good to be true, then it is false.
2. It promises you consistent returns regardless of the market conditions. Legitimate businesses experience times of profit and times of loss.
3. The investment strategy or business activities are described as too complex for investors to understand, or top secret. If a business idea cannot be explained, it is suspicious
4. The company or proprietor running the scheme focuses all their energy into attracting new clients to make investments.
5. Both old and new clients face difficulty trying to remove their money from the scheme.