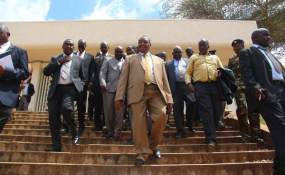 Photo: Kanyiri Wahito/The Nation
By Kevin J. Kelley
Kenya's ambassador to the US Robinson Njeru Githae has challenged opposition leader Raila Odinga's claim that he would have been declared the winner of the August 8 presidential election had the results not been hacked.
Ambassador Githae took issue with the computer hacking assertion during the public comment period at a Washington think-tank forum focused on the Kenya election results.
The envoy wondered how Mr Odinga's claim of rigging could be reconciled with the outcomes of the August 8 voting for positions below the presidential one.
Mr Githae pointed to "the fact that the Jubilee Party had an absolute majority in members of Parliament, governors, senators, MCAs and even women reps."
OTHER POSITIONS
He asked the think-tank panellists if they were suggesting that President Kenyatta also rigged the results of those other offices.
"There is not a single member of Parliament, governor, senator (or) MCA who has disputed those results," Ambassador Githae said.
He directed his remarks to two Voice of America journalists -- Vincent Makori and Mwamoyo Hamza -- who had covered the election.
Mr Makori, host of Voice of America's Africa 54 programme, and Mr Hamza, chief of the US-funded network's Swahili service, were taking part in the session at the Centre for Strategic and International Studies along with Mark Bellamy, a former US ambassador to Kenya who was moderating the event.
ELECTION OBSERVERS
Mr Githae added that a total of 8,000 election observers had given the vote process "a clean certificate."
Jubilee and Nasa, he further noted, had their own agents in polling stations around the country.
None of these 40,000 agents have claimed that the results they recorded at the polling places were different from those announced by the IEBC, Mr Githae said.
Mr Makori responded that neither he nor Mr Hamza "as journalists, have made any judgment on the claim of rigging".
"We report on what opposition candidate Raila Odinga has said," Mr Makori added.
"We don't have any evidence whatsoever that there was any rigging."
Mr Githae was appointed Kenya's ambassador to the US by President Kenyatta in August 2014.