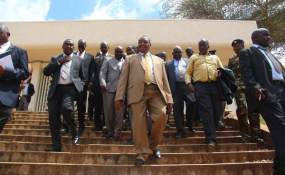 Photo: Kanyiri Wahito/The Nation
By Joseph Muraya
Nairobi — The international community has welcomed the move by the National Super Alliance leader Raila Odinga to move to the Supreme Court to challenge President Uhuru Kenyatta's victory.
United Kingdom Ambassador to Kenya Nic Hailey says the decision will not only ensure justice is served to all parties but it also guarantees Kenya's stability remains intact.
"They (NASA) clearly would want to produce the evidence that they have, there will be a process for that... I think that is exactly right because that is how these things are decided under the law," he said, shortly after Odinga's briefing.
He urged Kenyans to remain calm and wait for the determination of the court.
"People have a right to march in the streets to express their views but those demonstrations need to remain peaceful and everyone needs to wait for this matter to play out," he asserted.
Regional and international observers approved of the voting process.
Hailey's US counterpart Robert Godec said any electoral concern should be challenged in court as enshrined in the Constitution, without causing unnecessary tension in the country.
"Obviously, there are many different issues and factors that need to be considered in any election. I look forward to seeing the Opposition case and the place for the decision that will be made," he said.
President Uhuru Kenyatta garnered 8,203,290 votes translating to 54.2 per cent of the total votes cast against Odinga's 6,762,224 votes.
The US has since sent a message of goodwill to President Kenyatta but Godec says Kenyans should now give the Supreme court a chance to make a determination.
On Monday, the White House Press Office commended Kenyans for successfully concluding Tuesday's General Election and upholding peace throughout the electioneering period.
"We commend the dedication of candidates, officials, and the public to upholding a peaceful, fair, and transparent contest, and we welcome the statements by international and domestic observer missions affirming the credibility of the election," the statement read.
The United States, however, expressed concern with violent demonstrations in parts of the country particularly following the declaration of presidential election results on Friday, urging those who felt aggrieved with the outcome to seek legal redress.
"We are troubled by reports that some demonstrations have turned violent, and call on all Kenyans to reject violence and resolve disputes in accordance with the Kenyan Constitution and the rule of law."