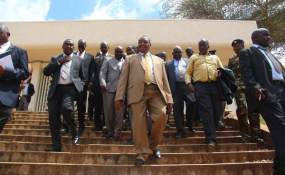 Photo: Kanyiri Wahito/The Nation
By Ojwang Joe
Kisumu — Residents of Kisumu have welcomed the decision by NASA to challenge the declaration by IEBC President Uhuru Kenyatta's re-election in the Supreme Court.
Locals say the court option is the best to allow NASA to prove their case.
Resident James Otieno says NASA had raised a number of irregularities which were ignored by the electoral body and the court now gives them room to seek redress.
"This is a good platform to show evidence of irregularities. They should hurry before Friday,"
A local trader Bernard Odhiambo also says he was delighted at the court option.
He says that NASA has the best opportunity to demonstrate to Kenyans the electoral irregularities that marred the recent polls.
Odhiambo says tension was building up in Kisumu and the statement from NASA leaders will now allow businesses to open up in the lakeside city.
"I am happy that he has made that decision because tension was building up and businesses were not going on," "It's a good move; we want to move on with our lives."
However, a local lawyer, Pascal Odhiambo says he is sceptical with the path NASA is taking.
Odhiambo wondered why NASA was resorting to the judicial process even after announcing that they will not seek legal redress.
He says NASA is bound to get little help from the Judiciary noting that the courts are inefficient and judges are stooges of the Executive.