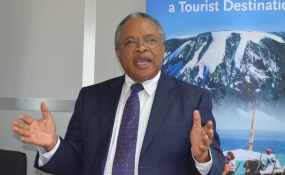 Photo: Daily News
By Peti Siyame
Sumbawanga — More than 50,000 heads of cattle in Kiteta and Kilangwana wards in Sumbawanga District, Rukwa Region, have been moved out of Uwanda Forest Reserve.
The move is in compliance with recent directives by the Natural Resources and Tourism Minister, Professor Jumanne Maghembe.
Last Wednesday, the minister gave a seven-day ultimatum to pastoralists to move their animals from the forest reserve by yesterday.
According to reliable reports in the Lake Rukwa Basin in Sumbawanga District, many pastoralists were planning to secure an audience with Prof Maghembe, to request for an extension, saying it was not practicable for them to implement the deadline within the weeklong timeframe.
According to the reports, more than 300,000 heads of cattle are in the forest reserve illegally. The Kilangawana Ward Councillor, Mr Ludovick Akilimali, told the 'Daily News' over the phone that already 35,000 heads of cattle had been moved from the reserve and were temporarily kept in four villages of the ward.
It is estimated that 15,000 heads of cattle had been moved from the forest in Kipeta Ward so far. "Kipeta and Kilangawana wards are accommodating over 50,000 heads of cattle between them. This poses a big challenge as the pastures here aren't enough to cater for that figure," Mr Akilimali said.
Some residents of villages along the Lake Rukwa Basin claimed that dishonest local functionaries solicited bribes from pastoralists to allow them to graze their livestock in the forest reserve.
During his recent four-day working tour in Rukwa Region, Prof Maghembe warned that after expiry of the seven day ultimatum, he would organise for an aerial reconnaissance in the area, warning that if his directive was ignored, he would