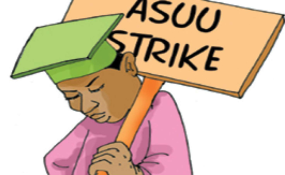 Photo: Vanguard
By Ismail Mudashir
The Minister of Education Malam Adamu Adamu yesterday gave indication that the ongoing strike by the Academic Staff Union of (ASUU) would be called off next week.
Speaking during a meeting with the Senate Committee on Tertiary Institutions and TETFund, Adamu said one of the demands by the union for payment of N1.5 billion monthly will be met by Monday next week.
He said "They asked for N23billion to be paid. But we said the condition for that N23billion to be released was for them to account for the N30billion they had taken, which is a total of N53billion. And they were not able to account for it.
"The Minister of Finance undertook to do the audit from the ministry. And we agreed that the result will be known in six months. During that six months, government undertook to be paying them N1.5billion each month during the time they are waiting for this. And their grouse was the forensic audit promised by the Minister of Finance had not been done and the money promised had not been paid.
"So, at our meeting two days ago, our agreements were as follows. And we will pay them all and do forensic audit on the entire N53billion. And that is what I tried to do yesterday (Wednesday). I wrote to the Minister of Finance and she has already approved and this money will be paid. Probably, by Monday, they will be able to receive the cheque."
The minister however insisted that ASUU's request for universities to be exempted from the Treasury Single Account (TSA) is not possible.
On salary short fall, he blamed the University authorities for recruiting staff without following due process.
"Concerning their salary short fall, we said a lot of the reasons spring from what they are doing wrong. They go and do a lot of employment without proper authority."
Chairman of the committee, Senator Barau Jibrin (APC, Kano) said "We are happy with your explanation and we hope ASUU will respond positively by calling off the strike."