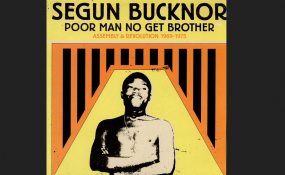 Photo: The Guardian
By Omiko Awa
The Nigerian entertainment industry has experienced another set back with the passing of Highlife/Afrobeat music icon, Segun Bucknor. Popular in the 70s and late 80s, Bucknor, who shifted grounds from playing soul music to Afrobeat, died in a Lagos hospital, on Friday, after a brief illness.
Born 1946 in Lagos, the music icon attended King's College (KC), Lagos, and was a member of the school's band and choir, where he sang and played guitar and piano.
Finishing secondary school, he joined Roy Chicago's Rhythm Dandies Dance Band and recorded some highlife tunes with the band. By 1964, highlife was fading away with the Beatles inspiring the post-independence youths with a wave of rock'n'roll music, young Bucknor left Chicago's band to pitch tents with Hot Four Band, which had Mike Nelson Cole (bandleader) and Sunmi Smart Cole (drummer), while he was the lead guitarist. The band played pop and rock songs. In 1965, Bucknor left the band for further studies in the United States.
Returning in 1968, he rejoined the band and upon the exit of Mike Nelson Cole (bandleader), Bucknor became the leader. The Hot Four in 1969 changed its name to Segun Bucknor and The Soul Assembly. The group recorded a couple of songs including, Lord Give Me Soul and I Will Love You No Matter How. The group gradually shifted from soul songs to Afrobeat, introducing three dancing ladies called the 'Sweet Things.'
However, it released one of its hit songs in 1970, Son Of January 15th, politically charged song. Other hits songs are: Sorrow, Sorrow, Sorrow; Poor Man No Get Brother; and Adanri Sogbasogba, one of its two songs in a Yoruba.
Members of his band later went their different ways, while Bucknor took to journalism practice.