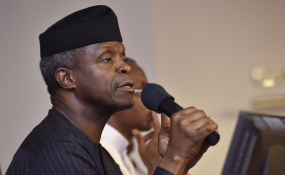 Photo: Premium Times
By Nasir Ayitogo
The Nigerian government has drawn a line on hate speech in the country, equating it to terrorism.
The Acting President, Yemi Osinbajo, stated this on Thursday at the National Economic Council security retreat held at the Presidential Villa in Abuja.
He said the intimidation of a population by words or speech is an act of terrorism and will no longer be tolerated by the President Muhammadu Buhari administration.
He warned that the government intends to take the matter seriously.
"As I have said, we have drawn a line against hate speech, it will not be tolerated, it will be taken as an act of terrorism and all of the consequences will follow."
Mr. Osinbajo called on Nigerian business, political and religious leaders to condemn "in the strongest possible terms, hate speeches that promote violence against an individual or a group, especially when such speech come from people of your own faith, tribe or group.
"When leaders in communities that speak in such a manner to create dissension or intimidate the population are quiet, they do a great disservice to our unity, they do a great disservice to our nation"
"Your silence in such situation can only be seen as an endorsement." Mr. Osinbajo said.
"This is why I urge all political leaders, religious leaders, business leaders and all of those who truly want a united country, a country where there will be peace and security to ensure that we do not tolerate by our silence the hate speech that we hear every day in community."
Although the acting president did not mention any name or groups in his speech, some of those who have been accused of hate speech include Nnamdi Kanu, leader of the secessionist pro-Biafra group, IPOB, and some northern youth who, in various audio speeches, have spread hate against Igbos.
Mr. Osinbajo stated that the primary purpose of government is to provide security and welfare of the people and as such the administration will not relent in the vision of a secured country in which all citizens can confidently aspire to achieve their means and ambition.
He said the Buhari administration came in with a vision that covers three key areas, which are security, the economy and the fight against corruption.
He said without guaranteeing security, however, Nigeria will struggle to attract the kind of investments, domestic or foreign, needed to create jobs and prosperity for the people.