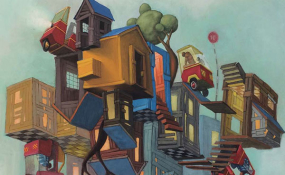 Photo: The East African
By Frank Whalley
The Brush Tu collective was set up by a group of artists keen to develop their potential and produce collaborative works of art.
A laudable enough aim but one that in their five years of existence seems to have gone slightly by the board. They now make art as individuals and there was no sign of collaborative work in their current exhibition.
They chose the name Brush Tu because it translates in Kiswahili as "Brush Only" or "Just Brush." Members initially chose paints and brushes as their main means of expression.
They might all have started off as painters but times change, talents develop, and now they produce photographs, sculptures, drawings and prints from their base in a Nairobi suburb while yes, some are staying loyal to paint on canvas.
I like the fact that they are eager to experiment with many different media and their exhibition, The Untitled at the Polka Dot gallery in Karen, reveals an imaginative band taking many directions.
For those of us who have not visited their studio, in Buruburu, it makes an interesting introduction to their work, although several are already well known on the city art scene.
Household names
Like Omo and Kimbo, three are already household names -- Elias Mung'ora, Boniface Maina and Michael Musyoka.
Another, the sculptor B. N. Kimani, now in his mid-40s, recently gave up teaching after 19 years at the nearby Buruburu Institute of Fine Arts to join the group full time, while the other five are young, keen to expand and, like his colleagues, are bursting with ideas.
Elias Mung'ora is celebrated for capturing street life in flurries of incisive brush strokes, and his Ice Cream Van and the huge (150cm by 230cm) My Local Butcher's Supplier are excellent examples of his oeuvre.
Boniface Maina, unusually, offers three sepia photographs on watercolour paper entitled Mwisho wa Reli (End of the Railway) that show he has a fine, discriminating eye, while three glowing photographs by Emmaus Kimani capture aspects of the city at night.
Michael Musyoka, like Maina a co-founder of Brush Tu, began as a professional illustrator and turns that to good use with three meticulous paintings themed Taking Wanjiku for a Ride.
Wanjiku, used as the symbol of wananchi by former president Daniel arap Moi, is presented with a cheerful scene of rapid development, but Musyoka's topsy-turvy world is a metaphor for many beguiling election promises never to be fulfilled. B. N. Kimani's three fibre-glass sculptures, featuring strong planes to emphasise their structure, were clean and precise.
I particularly liked his seated woman in a hospital queue Waiting for Healers with its floating slatted bench.
He also showed two strong etchings with structural accents; obviously a hallmark of his work.
Woodcuts
Abdul Kipruto's two forceful woodcuts of heads reference his concerns about human trafficking, while Lincoln Mwangi draws figures without heads to indicate inner conflict.
Petros Ndunde's two ballpoint drawings of surreal figures interlocked with chairs echo the planar approach of B.N. Kimani's sculptures whereas Waweru Gichuhi's bold canvases revel in the sheer pleasure of painting.
The idea of artists working together is powerful -- comradeship, shared experiences, mutual support and learning -- and they abound in East Africa.
As well as Brush Tu, there are the Kuona Trust, the GoDown, the Dust Depo and Shabu Mwangi's Wajukuu Project all in Nairobi, the artists centred on Daudi Karungi's AfriArt Gallery in Kampala and Collin Sekajugo's Weaver Bird Centre in Masaka... and also the group set up by Henry Mzili Mujunga one of the co-founders of the Kampala Arts Trust, to promote what he calls Indigenous Expressionism. It is called the Index Mashanki.
Mzili's biography describes him as a writer, painter, printmaker and conceptual artist and I cannot help but feel that, like his paint, he is spreading himself too thinly.
His current exhibition at the Banana Hill Arts Centre offers 14 paintings, acrylic on canvas, mostly of club scenes, an exception being one painting that held together reasonably well, called My Things.
At 165cm by 130cm, it is of a young woman perched on a pile of boxes containing shoes and clothes, and is an interesting idea although with its wildly disproportionate head it also highlights one of this artist's fundamental weaknesses -- his figure drawing lacks tautness and is prone to sudden lapses.
With a chalky palette and compositions that are sometimes startlingly unwieldy, his work here has the rushed, sketchy look of theatre backdrops rather than carefully considered easel paintings.
Is this what he is recommending as a model? I suspect not, and that what we are seeing are not his finest pieces even though most were finished only last year.
On this showing, I am not convinced that Indigenous Expressionism has much of a future.