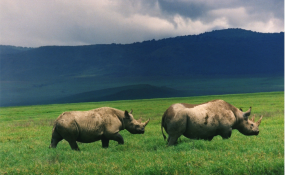 Photo: Daily News
An application to clear the way for rhino owner John Hume to sell 264 rhino horns in an online auction will be heard in the High Court in Pretoria on Friday.
He wants the court to instruct Environmental Affairs Minister Edna Molewa to hand over a permit authorising the sale with 12 hours of it granting such an order, Hume's lawyer Izaak du Toit said.
Hume filed his papers with the court on Wednesday. On his website, rhinohornauction.com, he describes himself as the world's largest private rhino owner.
Acting environmental affairs spokesperson Moses Rannditsheni said on Thursday that the department had issued no permits to sellers or buyers of rhino horn, in terms of the permitted domestic trade.
Asked why Hume's permit had still not been issued, Rannditsheni said Molewa was still "applying her mind".
"The minister is opposing the application. The department will comment at the appropriate time and in the appropriate forum," he said.
An informed source, who wished to remain anonymous, told News24 that much of Hume's stockpile had been classified "ineligible" for sale in its current state.
"He has been made to resubmit most of his stockpile for DNA profiling," the source said.
In the application, Hume maintains he applied to Molewa on May 12 for a permit and authorisation to sell rhino horn on auction. He began to advertise the auction in June, before a permit had been approved and issued.
"The permit has already been approved and issued by the respondent [Molewa] but she has failed or refuses to hand it over, or furnish me with a copy of the permit," Hume claimed.
He said department officials had repeatedly informed him the permit was ready. Every time his attorney or representatives tried to collect it, they left empty-handed.
"No logical reason for their refusal to hand over the permit was provided."
He claimed Molewa had personally told him the permit was ready, and that he could collect it at her offices in Pretoria.
According to Hume's website the online bidding is scheduled to open on Monday at 12:00, and close at 12:00 on Thursday.
News24