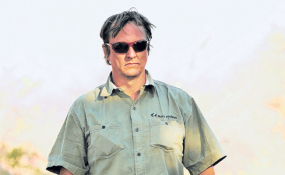 Photo: The Citizen
By Elvis Ondieki
Wildlife enthusiasts across the globe are in mourning after a man who has been fighting poaching in Tanzania, amid death threats, was shot dead in Dar-es-Salaam.
Mr Wayne Lotter, a former vice president of the International Ranger Foundation and a co-founder of an organisation that has been combating poaching in Tanzania for the last eight years, was killed when his taxi was stopped by another vehicle as he was being driven from an airport to his hotel.
POLICE
London-based newspaper The Guardian reported online that one gunman opened the car door and shot Mr Lotter.
Pams Foundation, an anti-poaching organisation Mr Lotter has been running in Tanzania since 2009, said in a Facebook post on Thursday evening that the killing happened on Wednesday night in Dar-es-Salaam's Masaki District.
It added that Tanzanian police had launched an investigation into the death.
Mr Lotter, The Guardian reported, had received numerous death threats before, following the success of his anti-poaching programme that has seen more than 2,000 poachers and ivory traffickers arrested since 2012 with an 80 per cent conviction rate.
One of the major achievements was the February 2016 arrest of Yang Feng Glan who had been christened "Queen of Ivory".
KENYA
The conservationist has been in Kenya previously in his mission to protect animals.
One of his notable visits was in April 2016 when he was among the attendants of a three-day Giants Club Summit.
Leaders from Kenya, Botswana, Gabon and Uganda were present.
Voice of America quoted Mr Lotter saying that the event provided "an opportunity to come and network with other people, share best practices and learn that there's some good people here, and we can also share some of our experiences".
Pams Foundation said in its tribute that Mr Lotter started his service to wildlife in South Africa, his country of birth, as a ranger before he moved to Tanzania to step up his conservation efforts through the foundation that he co-founded with Krissie Clark.
HIS APPROACH
"Wayne cared deeply about the people and animals that populate this world," said the foundation.
"He died bravely fighting for the cause he was most passionate about."
The foundation also gave a glimpse into the work ethic of Mr Lotter, saying he was operating on a policy of empowering Tanzanians to fight poaching.
"Wayne believed communities were the best protectors of the continent's animals. Through his work with Pams he helped train thousands of village game scouts in every corner of the country.
"His ground-breaking work in developing an intelligence-based approach to anti-poaching helped successfully reverse the rampant rates of poaching facing Tanzania.
"Wayne's charm, brilliance and eccentric sense of humour gave him the unique ability to make those around him constantly laugh and smile," said Pams Foundation.
COWARDLY
Joining in the wagon of tributes was conservationist Dr Jane Goodall, an Ambassador for the Thin Green Line Foundation that supports Rangers training.
"There is no doubt in my mind that Wayne's anti-poaching efforts made a big difference in the fight to save Tanzania's elephants from the illegal ivory trade. Moreover, his courage in the face of stiff opposition and personal threats, and his determination to keep on fighting have inspired many and encouraged them also to keep fighting for wildlife," she said in an obituary published on Facebook by the International Rangers Foundation.
"If this cowardly shooting was an attempt to bring the work of the Pams Foundation to an end it will fail. Those who have been inspired by Wayne will fight on. But he will be sadly missed by so many," added Dr Goodall.