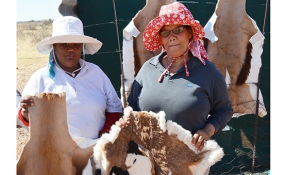 Photo: The Namibian
By Luqman Cloete
At the crack of dawn each day, Duineveld settlement residents Elma Titus (39) and Annellise Titus (35) set up shop along the B1 highway between Kalkrand and Mariental to sell wares made from animal skins.
In an interview with The Namibian, Elma said their day starts at 05h00 when they wake up to prepare their children for school.
At 06h00, they leave home at the Duineveld settlement to walk about 10 kilometres to their makeshift stall along the highway.
The stall where the two eke out a living selling goat, zebra and sheep skins, as well as handbags, floor mats, pillows and keyholders made from animal skins, is made of corrugated zinc sheets.
The vendors said they have no choice but to endure the long walk to the highway each day so that they can raise money to feed their families and pay for their children's other needs.
"We started this business because there are no job opportunities at the settlement," Elma explained.
She said their husbands, who are also unemployed, do odd jobs at the settlement and nearby farms to supplement the family incomes.
"When we do not come here at times, and there are no odd jobs for them, our husbands come to hold the fort," Elma said.
On a good day, Elma said they make up to N$1 000 from sales. However, she hastens to add that there were times when they had returned home empty-handed.
They make their wares from animal skins which they buy from the community-run Dune Tannery at the settlement.
Duineveld is a small settlement in the Rehoboth district, and was rated by the 2011 census report as one of the poorest constituencies in the Hardap region.
Apart from a junior secondary school, there are no noteworthy businesses or government offices to ease the problem of unemployment.
The Labour Force Survey of 2016 indicates that the unemployment rate in the Hardap region stood at 37,7%. The poverty incidence rate stood at 17,2% according to the 2015 Poverty and Deprivation in Namibia report.
The highway vendors became emotional when asked about the challenges they face, the biggest being the long distances they walk to their stall.
When they started their business a few years ago, they walked a shorter distance of about three kilometres to a site within the road reserve, where they previously conducted their business.
According to Annellise, Roads Authority officials recently ordered them to vacate the site because trading was not permitted within the road reserve.
This forced them to move further down to their current spot, which was offered to them free of charge by commercial farmer Rico Dean.
"All these years, nobody bothered us when doing business in the road reserve, which according to our understanding is state land," said Annellise angrily.
She believes their sudden eviction early this year from the road reserve was triggered by stock theft accusations commercial farmer Johan Strauss, whose farm is next to the road reserve, had levelled against the vendors.
She said in January 2016, they and five other vendors were fined N$500 for trespassing on Strauss' farm on their way to their old stall.
However, Annellise said they did not pay the fine as the farmer withdrew the trespassing charges against them.
The women furthermore complained that their constituency councillor, Riaan McNab, had not shown any interest to assist them in getting a piece of state land along the highway where they can set up makeshift vending stalls.
"Our regional councillor is aware of the challenges we face with regards to land, but he is doing nothing to assist us. We are very disappointed in him," she added.
Annellise said there was talk that the state-owned Namibia Development Corporation (NDC) would buy a piece of land on a farm bordering the road reserve to put up stalls for them, but nothing has come of it.
McNab yesterday refuted claims that he had not shown any interest to assist the highway vendors, saying he had convened several meetings with them to address the challenge of the long distances they walk.
"The Roads Authority is clear about trading in a road reserve. I told them there was no way we could compromise on the law which is there to prevent people from endangering their lives from possible road accidents," the regional councillor stated.
The politician claimed that he had also engaged Strauss and other farmers in a bid for government to acquire a piece of land on their farms to put up stalls for the highway vendors, but these talks were scuppered as the parties failed to reach an agreement on the conditions set by the farmers.
"The relationship between the farmer on whose land they had previously set up shop turned sour, and they were forced to vacate his private farmland. That relationship is now irreparable," he noted.
The conditions set by the farmers, said McNab, were that only women would be permitted to sell products from the roadside as their male partners allegedly sold drugs along the highway.
Additionally, the politician said it was also suggested that they would be allocated stalls which are to be inaugurated soon at the Kalkrand village's small and medium enterprises park, but they also rejected that option.
"I do not want them to be exposed to danger. Therefore, I would love to address their problem. It is easy to find a solution. It is just a question of understanding and respecting each other," McNab stated.