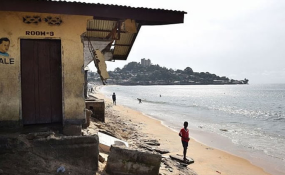 Photo: Front Page Africa
Monrovia — An earthquake of 6.8 magnitude on the Richter scale occurred approximately 880 kilometers off Liberia's shore, the ministry of information, culture and tourism has confirmed Friday morning.
The ministry, however, assured the public that the quake poses no threat of a tsunami occurring.
The information ministry assured the public in the release that relevant government agencies and security apparatus are continuing to monitor the situation and will readily inform the public and new and additional information becomes available.
The government has assured all citizens to remain calm but alert in the wake of the incident.