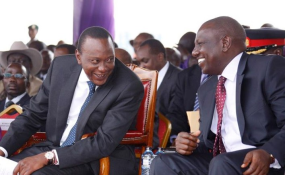 Photo: Uhuru Kenyatta
By Joseph Openda and Marion Wambui
The construction of new courts in Nakuru where some election peitions would be heard is not yet completed.
In Januray this year, Chief Justice David Maraga said the structure will house courtrooms where matters relating to the August 8 elections will be heard and determined.
DELAY
The construction manager, Mr Abdi Shakur Ibrahim, said it will not be possible for the petitions to be handled in Nakuru since the works are ongoing and would require more time.
Mr Ibrahim said the delay was caused by structural changes initiated by the Judiciary.
"We have been granted a six-month extension to complete the construction. This is due to changes made each time by the client about how the rooms should be designed," he said in an interview with Nation
EXTENSION
Early this year construction consultant Britson Nyakundi said the project will be completed by August 18.
Now it is expected to end by March next year and will cost the government about Sh340 million.
The building will contain 12 courtrooms, 15 judge chambers, a library, cells for both male and female and a parking lot that would accommodate up to 16 vehicles.