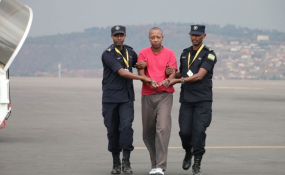 Photo: New Times
By James Karuhanga
Jean Twagiramungu, a Rwandan who was extradited from Germany on Friday, will be formally charged next week, Police said yesterday.
Twagiramungu is accused of helping mastermind genocide in the former Gikongoro Prefecture, now part of Southern Province. He was two years ago arrested in Frankfurt, Germany and he has since been battling extradition in different courts until he exhausted all legal means.
"He arrived but since he said he was too tired as he'd been flying all night and was not ready to enter plea immediately, we expect to record a statement from him on Monday. He is now in Police custody and they will hand him over to Prosecution later," Prosecutor-General Jean-Bosco Mutangana said Friday evening.
The suspect was assigned a lawyer on arrival, said the Prosecutor-General.
Rwanda National Police Spokesperson, Assistant Commissioner of Police (ACP) Theos Badege, said "we have five days from the day of the arrival of a suspect to complete our case file and send it to Prosecution."
Earlier on Thursday, Mutangana said the move by German authorities "is a very positive development" in efforts to book those responsible for the 1994 Genocide against the Tutsi. The implication, according to Mutangana, is that Germany cannot be considered a safe haven for Genocide fugitives anymore.
Twagiramungu, according to survivors, used his influence as a teacher to order Interahamwe militia to take up arms and murder their neighbours during the Genocide. Survivors say Mutangana always brandished traditional arms, including machetes, everywhere he went and was seen at roadblocks where the Tutsi were killed.