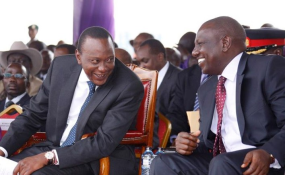 Photo: Uhuru Kenyatta
By Erick Oduor
Kenya's opposition leader Raila Odinga's fourth stab at the presidency could bring an end to his illustrious political career, which began in 1992, when he was elected Member of Parliament for Lang'ata in Nairobi.
With his fate now hinged on the outcome of the presidential election petition that the National Super Alliance (Nasa) filed at the Supreme Court, Mr Odinga has stated that he is likely to retire from elective politics.
In an interview with The EastAfrican a week before the elections, Mr Odinga said he would pass the baton to his co-principals in Nasa.
Mr Odinga had vowed to retire after five years as president, to emulate great leaders on the continent like the late Nelson Mandela.
"That is not hearsay. Our power sharing agreement is a public document lodged with the Registrar of Political Parties as required by law," he said in the interview.
Mr Odinga, 72, came into the public limelight when he was jailed over the failed coup against then president Daniel arap Moi in 1982. He spent six years in prison.
Multiparty politics
Mr Odinga was later detained and released at the height of clamour for multiparty politics, and he participated in the formation of Ford, an opposition party that later split into two -- Ford Kenya and Ford Asili.
His influence has spread across most parts of the country. This year he faced President Uhuru Kenyatta for the second and last time.
Known for his ability to craft coalitions ahead of elections and to weather political storms, Mr Odinga was the kingmaker in the 2002 elections when he fronted Mwai Kibaki, who went on to win the presidency.
In the interview before the election, Mr Odinga said he had the experience and skills required to serve in the highest office.
"I was in government as Prime Minister for five years, and as a Cabinet Minister before that. With other like-minded colleagues, we put the needs of Kenyans first in policy-making.
"Each of those times, be it in during my 2001 appointment in the KANU-NDP co-operation, or in NARC in 2003 and the Grand Coalition in 2008, we took decisions that transformed Kenya, expanding people power, bringing marginalised communities to the centre of politics, and initiating infrastructure projects," Mr Odinga said.