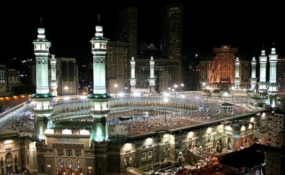 Photo: Leadership
By Abbas Jimoh
The National Hajj Commission of Nigeria (NAHCON) has said it would commence the return airlift of pilgrims to this year's hajj on September 7, a day after the Saudi Arabian authorities would have opened the airports.
The Commissioner Operations of the commission Abdullahi Modibbo Saleh made the announcement Saturday in Abuja after a 'Comprehensive Review of Operations of Air carriers'.
He also said that the commission has so far airlifted 46,820 intending pilgrims representing 70 per cent of the total pilgrim of 65,601 and that the remaining would soon be airlifted ahead of schedules.
"We have reviewed our operations and identified areas of challenges and which is being addressed, we are sure of completing the airlift of our pilgrims before the closure of the airport by Saudi Arabia Government," Saleh said.
He added that the four approved air carriers would complete their assigned intending pilgrims on or before September 26.
On the return airlift, Saleh said that it would be on first come first serve basis as those airlifted earlier would also be the first to be airlifted back to the country.
He therefore urged intending pilgrims to be patience and wait for their flight schedules rather than coming to wait for days and inconvenience themselves.