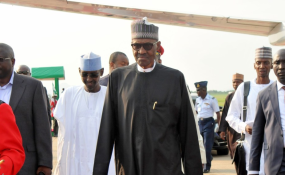 Photo: Callistus Ewelike/NAN
Residents of Jos, the Plateau State capital, have expressed happiness over the return of President Muhammadu Buhari from a medical vacation in London.
Buhari, who travelled to London on May 7, returned to the country on Saturday.
Some of the residents, who spoke with our correspondent, thanked Almighty God for restoring the President's health, and promised continuous prayers for him.
Mr Philip Tella a civil servant, said that Buhari's return would douse the tension following anxiety over his health status.
He urged the President to pay special attention to the nation's economy and initiate policies that would minimise the harsh effects of the current economic recession.
"We are happy that God answered our prayers and the President is back. We shall continue to pray to God to bless him with wisdom to address Nigeria's enormous challenges," he said.
Alhaji Ado Suleiman, a trader at the Jos Terminus Market, urged Nigerians to pray for God's guidance to the President in the task of moving the nation forward.
"The challenges are many, from security, economy to health. The President cannot deliver alone if we do not support him," he said.
Suleiman urged Buhari to pay special attention to the plight of poor Nigerians, noting that life had been "very tough for them".
Hajiya Sawaba Bawa, an Irish potatoes seller in Bukuru, who screamed when she was told that the President had returned, urged Nigerians to continue to pray for him to enable him deliver on the difficult task of leading Nigeria to progress and prosperity.
"His return is a testimony to God's special love for Nigeria. We must pray to God to further strengthen him because his job is a difficult one that requires a lot of energy and commitment," she said.
Malam Nalado Alti, a herdsman who resides in the Mai-Adiko area of Rayfield, Jos, told NAN that Buhari's return had restored hope to him. (NAN)
"I have been worried about Buhari's absence. At a point I lost hope. I am happy he is back to continue the work we elected him to do for us," he said. (NAN)