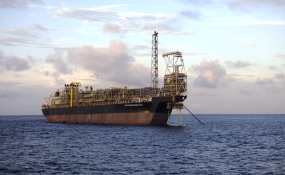 Photo: Tullow Oil
By Alfred Adams
Takoradi. — The management of Tullow Ghana has said it is unable to dig more oil wells at the deep waters as a result of the maritime dispute between Ghana and neighbouring Ivory Coast.
As a result of the dispute currently pending at the ITLOS, Tullow says it is waiting for the outcome of the ruling before it would go in to dig more oil wells.
At a media engagement held in Takoradi, the Managing Director of Tullow Ghana, Mr. Charles Darku, told this reporter in a follow up question that Tullow was not desperate in digging for more oil wells, though it needed them.
He added that the inability of Tullow Ghana to dig more oil wells has come at a cost, but not to the company.
According to him, the cost associated with the oil giant's inability to dig more oil wells, as a result of the maritime dispute, would be borne by its insurers.
As to how much cost the insurers of Tullow Ghana are going to bear, following the oil company's inability to dig more wells was not explained by the Tullow MD.
Managing Director Darku said, initially, Tullow had planned to dig 24 oil wells at the TEN projects. Out of the 24 oil wells, 11 were going to be at the first stage.
The decision of the ITLOS maritime boundary dispute is expected to be given in September this year.
Ivory Coast dragged Ghana to the ITLOS, claiming that where the TEN project is located currently, fell within the maritime boundary of Ivory Coast.
Ghana is hoping for a settlement of the dispute after it filed its final argument before the ITLOS.
Turning his attention to other areas, the Tullow MD told the media that his outfit was exporting a total of 10.9 billion scf of gas from onshore to offshore to meet Ghana's gas demand, up to 120mmscfd.
Touching on the Standard Bearing, Mr Darku told the media that the bearing was slightly bent, consequently, the next stage was to stabilise the bearing.
Accordingly, next year it was going to rotate the FPSO in an eastward direction in line with major waves of the sea.