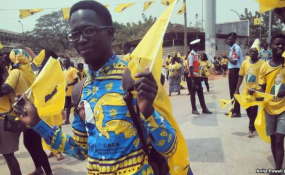 Photo: Anita Powell
Luanda — The electoral process underway in the country serves as a lesson for other nations, for the safe, calm and tolerant way in which it is taking place.
This was said on Sunday in Luanda by a member of the Politburo of the ruling MPLA party, Carolina Cerqueira, on the fringes of a socialization act with the veterans and memory of the Angolan culture.
She stressed that the lesson that Angola is teaching to the world is clear proof that the country will be a great power in Africa.
To her, the 2008, 2012, and now 2017 elections show that the country is having a good democratic exercise that is getting consolidated and strengthened, the existing strong and credible institutions are the clear evidence, where each one participates with his experience for the greatness of the country.
She congratulated voters who, for the first time, will exercise their right to vote and citizenship, appealing for the mind in choosing who better to govern, guarantee more work, tranquility, security and social protection.
On Wednesday's election, the MPLA, UNITA, FNLA, PRS, APN and the CASA-CE coalition are competing.
For the August 23 election, Luanda registered over 2.88 million voters.