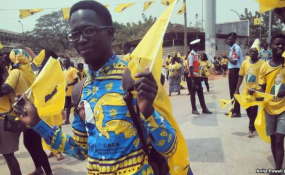 Photo: Anita Powell
Luanda — The provincial vote counting of the results from the municipal polling stations was approved on Sunday by the National Electoral Commission (CNE) at its 22nd plenary session at its headquarters in Luanda.
According to CNE spokeswoman Júlia Ferreira, this is a mechanism provided by the Angolan law, according to which municipal electoral commissions must inform the Provincial Electoral Commission as soon as the results of the polling stations of the constituency have been tabulated.
He said that when talking about the provincial vote counting, reference is made to the operations made at the level of provincial electoral commissions through minutes and other documents such as ballot papers, to determine the results of each provincial constituency.
With the approval of this directive, the claim of some opposition parties that demanded that the results should be tabulated at the level of the Municipal Electoral Commission is resolved.
Júlia Ferreira said that the tabulation of ballot papers claimed by the competing parties will not be made at the voting tables, at the time of the count, and are sent to the provincial electoral commissions, the body is responsible for deciding on these issues.
She told the press that the Sunday's meeting also decided on the reinforcement of the presence of provincial representatives of the political parties.
However, the law on elections does not define any specific number or other limit on the representative of the parties running for the elections.
Another issue addressed, according to the CNE spokesperson, is the conversion of votes into mandates, which will not be done by the provincial constituencies, but by the National Scrutiny Center that will operate at the Talatona Convention Center in Luanda.
She emphasized that it is on the basis of the minutes of the provincial constituencies sent later to the national constituency for the national vote counting.
The official informed that the national tabulation of election results will allow the conversion of the votes in mandates of the MPs of parties and coalitions to the National Assembly, as established by the law on the general election.
However, the Elections Law requires the CNE chairperson to announce the definitive results, within a maximum of 15 days, in the media, counted from the closing date of the voting and to issue notices at the door of its premises.