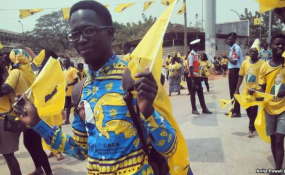 Photo: Anita Powell
Luanda — The meeting that the National Electoral Commission (CNE) was supposed to hold on Sunday with the leaders of the political parties running for the general election on August 23 this year, was suspended due to disrespect to the protocol on the documentation to be delivered by this body by the representative of the UNITA.
This information was provided to the Press by the CNE spokeswoman, Júlia Ferreira, stating that, during the meeting scheduled with the leaders of the competing political forces, there was an incident carried out by the representative of the opposition UNITA party, which violates the formalities agreed by the CNE.
The incident occurred when José Alberto Katchiungo refused to comply with the formalities established when a device was handed over to agents of competing political parties and alleged that he did not trust the information contained in this file.
"It is worth mentioning that, in relation to the representatives of other political parties, this process took place in a quiet manner and in respect of the way CNE organized the process", the spokeswoman said.
Júlia Ferreira stressed that "it was only in relation to the representative of UNITA that this behaviour was registered, claiming that he had to first check the information contained in the device delivered by the CNE whether they were in fact true or not and that he had to first make this inquiry before and only after that he could come to comply with the stipulated formalities".
According to her, this attitude is not in line with the principles defended by the CNE, which aim to maintain an interactive dialogue, respect and agreement with the political forces competing for the election.
She informed that this behaviour of the UNITA representative will be made known to the plenary of the organ that oversees the general election and to the UNITA president.
This meeting was scheduled to discuss the accreditation process of the delegates of list, the geographical displacement of polling stations, the mapping, the subsidies of the delegates of list, the limitation of access to the polling station at all levels (provincial and national), data transmission circuit of the scrutiny and tabulation of the electoral results.