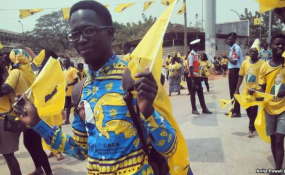 Photo: Anita Powell
Luanda — The ruling MPLA party?s presidential candidate João Lourenço Saturday paid a homage to the head of State, José Eduardo dos Santos, for his commitment to the country and the efforts to reach peace and stability.
João Lourenço was speaking at a public rally in Luanda that set the closing of the electoral campaign ahead of the forthcoming 23 August general election, attended by the party leader José Eduardo dos Santos.
The ruling party's presidential candidate underscored that José Eduardo dos Santos secured the national sovereignty by defending the country from internal and external threats.
He added that attaining peace and stability 15 years ago and the launch of the bases for national reconciliation and diversification of the economy should also be credited to José Eduardo dos Santos.
João Lourenço praised the "wise and secure way" the head of State is leading the political transition process, without breaking away with the past and present.
More than nine million voters have registered for the general election of 23 August this year being contested by six political parties. They are the ruling MPLA party and opposition UNITA, PRS, FNLA, APN and CASA-CE coalition.