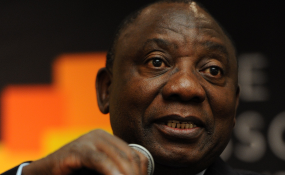 Photo: Werner Beukes/SAPA
The secret ballot in the motion of no confidence in President Jacob Zuma, the Gupta's influence at Eskom, confidence in state-owned enterprises and unemployment are some of the topics Deputy President Cyril Ramaphosa will have to address when he answers questions in the National Assembly on Wednesday.
DA leader Mmusi Miamane will have two goes at Ramaphosa, while three ANC MPs will ask questions. Another opposition party MP who will get an opportunity to ask a question is Agang SA MP Andries Tlouamma, known for his interesting metaphors when speaking in the House.
The questions are as follows:
- Maimane will ask Ramaphosa whether he offered National Assembly Speaker Baleka Mbete "his considered views" on whether to allow the motion of no confidence in Zuma on August 8 to be conducted by secret ballot, in accordance with his role as Leader of Government Business, as required by the National Assembly's rules and, if not, what the position is in this regard, and if so, what the relevant details are;
- ANC MP Phumzile Bhengu-Kombe will refer to Ramaphosa's speech at the launch of the National Campaign against Violence towards Women and Children on July 30, 2017, in which he said that to end violence against women and children, patriarchy in all its forms and manifestations needed to be confronted. She wants to know what the major manifestations of patriarchy in South African society are that must be confronted and how the government, together with civil society, is planning to reverse entrenched patriarchal relations and attitudes in our society, focusing on the family unit.
- Tlouamma will ask Ramaphosa how long he has known about "a certain family's" - this has become Parliamentary parlance for the Guptas - "alleged influence" at Eskom and what action he has taken "to stop this rot";
- ANC MP Ndabakayise Gcwabaza will refer to Finance Minister Malusi Gigaba's 14-Point Plan that was developed as part of the economic transformation cluster, which is intended to move our economy out of technical recession, and which relates to the recapitalisation of the state-owned enterprises (SOEs) and government guarantees, as well as broader state-owned enterprise reform. He will then ask what can be done to ensure investor confidence in the SOEs and what steps the government has taken to stabilise SOEs in terms of governance and recapitalisation, to advance structural economic transformation and economic growth;
- Maimane will then ask Ramaphosa - with reference to South Africa's ever-growing unemployment rate, which is currently at a 14-year high of 27.7% - what steps government has taken since January 1, 2017, to properly address "this crisis";
- ANC MP Juli Kilian will refer to Ramaphosa's welcoming remarks at the 2017 graduation ceremony at the University of Mpumalanga, where he called on the graduates to innovate, contribute and create new opportunities for inclusive and sustainable development, and his role as chairperson of the Human Resource Development Council of South Africa.
She will ask what the government is doing to encourage the post-school education sector to align its programmes to support the Human Resource Development Strategy of our country, and how the government is handling the phenomenon of unemployed university and college graduates.
The question session is scheduled for Wednesday at 15:00.
Source: News24