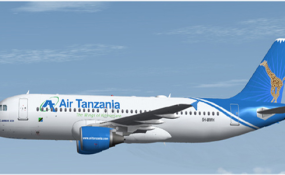 Photo: The Citizen
By The Citizen Reporter
Dar es Salaam — The Minister for Works, Transport and Communication, Prof Makame Mbarawa, yesterday failed to clarify when the third Bombardier plane would arrive in the country and why the June timeline was not met.
The Kigoma Urban MP, Mr Zitto Kabwe, asked the minister about the matter on Tweeter, "Minister @MbarawaM the government promised in parliament that you will be receiving another Bombardier aircraft in July. Today we have started the second half of August. Where is the plane?" tweeted Mr Kabwe.
"Indeed, the promise was July delivery, there are final procedures which we are being sorted, the plane will arrive," tweeted back the minister.
The answer, however, did not quench Mr Kabwe's thirst and he shot another one, "What are the reasons for delay? A one month delay is not a good sign. Is it because you haven't settled the bill?" The minister, however, couldn't answer the question and efforts for The Citizen to reach him outside Tweeter didn't materialise.
Last year, the government acquired two 76 seater Bombardier Q400 NextGen turboprop airlines which helped to revive the national carrier ATCL, with the third, which is now in question, was expected to be delivered last month. The aircraft are currently deployed to local destinations.
The government has also placed order for two Bombardier CS300 jetliners capable of carrying between 137 and 150 passengers. The planes are scheduled to be delivered between May and June 2018. Both are expected to serve regional destinations upon arrival.
To stamp the country's efforts to bring the airline transportation to its previous glory, the Magufuli government has also placed order for a long haul aircraft, Boeing 787-8 Dreamliner. Already an advance payment of $10 million (Sh21 billion) has been in the last financial year. The list price of the 787-8 is $224.6 million, according to various international aviation websites.
The plane, which will be able to carry 262 passengers in a three-class configuration, is expected to be delivered in June, 2018.