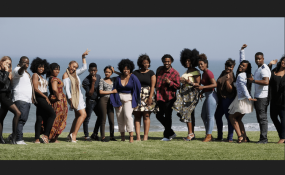 Photo: IdolsSA/Facebook
Our Top 16 announcement hangs in the distance like a cloud pregnant with rain. Only thing is, one of the most anticipated moments on the reality television calender is not that far away. We're literally just TWO days away from finding out who will sing for Mzansi's vote, starting next week! And we know just how much mental and emotional slog the Top 16 announcement is for not just our hopefuls, but also for you, the Idols viewer.
With that in mind, we've come up with a contingency plan to help you transition through Sunday night better. Forewarned is forearmed (no, not the body part).
Tissues
You'll need lots and lots of tissues to help you navigate through the sea of emotions our Top 16 show will have you paddling through without a life raft. Feels will be felt, tears will be shed – and you'll honestly even absent-mindedly try to hand our contestants some of your leftover tissue through the tv because, whew! The emotions. Promise.
Smelling salts
You know, in case you need to be revived. Look, fainting is a possibility when you're firmly invested in Idols SA and our incredible crop of talent. Honestly, get ready to see worse drama than when the money has disappeared from your mother and her friends' stokvel.
A shoe
To throw at your television set should something outrageous happen. And trust us, there will be plenty of outrageous moments during our Top 16 show. Don't say we didn't warn you. Pro Tip: Your chosen shoe should be strong enough to inflict only minimal damage. Try a slipper. Slippers are pliant.
Snacks
Stock up. Please. You'll need some nourishment. You will be parched. Your mouth will also desire something your teeth can crush harder than when our judges crush dreams.
A strong hand
So you can wrestle your drunk uncle for the remote, in case he tries to tune into the horse racing channel. Not today, malume. Not. Today!
The inside scoop
Now that you've printed this and are sticking it up on your fridge as we speak, enjoy your weekend - and let's all see each other on Sunday evening, shall we? Great!