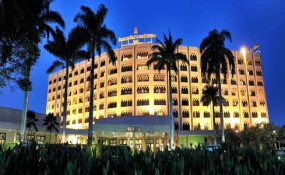 Photo: The Citizen
By Hazla Omar
Arusha — TANZANIA is facing acute shortage of over 30,000 hotel beds to accommodate the expansive demand in the hospitality sector. Only 38,000 hotel beds are currently available against the country demand for 70,000 beds.
According to the acting Director of Tourism in the Ministry of Natural Resources and Tourism, Mr Deogratius Mdamu, the sector is rapidly growing, with peak seasons -- between July and September -- resulting into overbooking of high-class hotels.
Mr Mdamu was speaking here over the weekend at a ceremony to award certificates to hotels that underwent the 'Star-Rating' grading exercise for Arusha and Manyara regions. The ministry and East African Community jointly conducted the ratings.
Until recently, Arusha which is the country's tourism hub and gateway to the Northern Circuit, had about 2,800 hotel beds. The region is reported to have raised the number to 3,000 while Mwanza, despite its tourism potentials, has only 920 beds, slightly higher than Kilimanjaro and Mbeya's 916 and 670 beds, respectively.
Dar es Salaam region leads with over 3,000 beds. The Tourism Minister, Professor Jumanne Maghembe, pointed out that although the country needs more hotel beds to cater for increasing visitors, the services provided must be improved as well.
"Hotels in Dar es Salaam, for instance, seem to focus mostly on conference hosting and meetings while the Northern Zone's are more oriented towards the real tourism sector," said Prof Maghembe. During the rating, Arusha had ten of its properties accredited with 'Five-Star,' rating certificates.
They are Mount Meru Hotel in the town hotels category and Ngurdoto Mountain Lodge on the Vocational Lodges category. Other five star properties were all lodges, mostly located in the national parks or in surrounding areas like Karatu.
They are Ngorongoro Oldean, The Manor Ngorongoro, Ngorongoro Sopa Lodge, Tarangire Sopa Lodge, Legendary Lodge, Acacia Farm House and Lake Manyara Lodge.
There were also 19 Four-Star properties, 65 Three-Star properties, 81 properties with Two-Star status and three properties were graded the least with One-Star class.