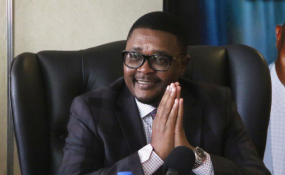 Photo: The Herald
Tourism Minister Walter Mzembi has reportedly called on the media to help him market the country to the international community, as Zimbabwe continues to have a tainted image due to its history of "bad governance".
According to New Zimbabwe.com, Mzembi said this last week while speaking to editors in Harare on his "Brand Zimbabwe" initiative.
Mzembi said that the media in the country should help him rebuild the southern African country's image globally through publicising that there was no "dictatorship in the country".
Zimbabwe suffered image dent when President Robert Mugabe and his Zanu-PF led government embarked on a violent and controversial land reform programme in 2000.
At least 4 000 white farmers were left without land, according to the Zimbabwe Commercial Farmers Union (CFU)
The state-owned Herald newspaper on Tuesday quoted Mzembi as saying: "The media has a critical role to play in marketing Zimbabwe as a brand that is safe for tourists and whose hospitality can be hardly matched with many other countries worldwide."
De-branding Zimbabwe
He said that the country had immeasurable media freedom compared to other countries.
Mzembi recently lost the United Nations World Tourism Organisation's (UNWTO) secretary general position after being beaten in the second round of the vote by his Georgian counterpart.
He came second after an impressive first round against his Georgian counterpart who won the elections by 18 votes to his 15.
Early last year Mzembi blasted local media for only "concentrating" on political fights engulfing the nation, saying that this was reflecting badly on the country, as the reports portrayed Zimbabwe as being "unstable".
Mzembi said at the time that although politics was "newsworthy", local newspapers also had the duty to report on other developmental issues in order to boost the country's tourism sector.
He said that most of the daily newspapers in the country had turned into "party tabloids".
"Today we have found that the media have been the lead for deconstructing or de-branding Zimbabwe through the news item that they publish. We have different types of news in our midst, which is not only political. We hope the media could be democratic to the extent of also covering developmental issues and other accomplishments that are taking place in the country," Mzembi was quoted as saying at the time.
Source: News24