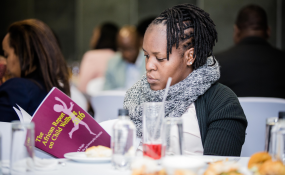 Nairobi — Kenyan Journalist and the Graca Machel Trust Women in Media Network member Brenda Okoth is among this year's recipients of the prestigious Erasmus Mundus Scholarship.
Now in its ninth year, the Erasmus Mundus Joint Programmes provides scholarships funded by the European Union to impressive students coming from both EU and non-EU countries to study at Masters or Doctorate level.
Brenda has been awarded a full scholarship to pursue a Masters in Journalism, Media and Globalisation.
The Mundus Journalism programme is a master's degree that offers a unique educational experience with students studying and living in at least two European countries. The first year of the degree is spent in Denmark with the entire cohort, and the second year sees students split into smaller groups and move universities to specialise in one of four distinct areas of journalism: War and Conflict, Business and Finance, Media and Politics, or Journalism and Media Across Cultures.
The truly transnational degree provides a solid foundation for analysing and reporting global changes. Building on journalistic skills, the degree offers a unique combination of journalism, media studies and the social sciences.
"I am truly honoured to be one of this year's Erasmus Mundus Scholarship recipients. To think that there were hundreds across the globe who were applicable for this, that I was chosen to be one of them, it is such a blessing. It's a really intense programme and I'm looking forward to it," said Brenda.